Need some curtain inspiration? Check out these 15 DIY curtain ideas; all include quality photographs and a complete tutorials!
Curtains: the decor situation that's faced in every room. I'm currently remodeling my house room-by-room, and at the beginning of each room, I face the repeated question: what should I do about the curtains?
I've spent so much time thinking about this, that I feel I should be a DIY curtains expert. Unfortunately, I'm not.
Since I still haven't come up with the universal perfect curtain solution, I decided to make this list of DIY curtain ideas as a reference for the rest of rooms. Maybe it will be helpful to you as well!
Note: This blog contains affiliate links. If you click and make a purchase, I may receive compensation (at no additional cost to you.)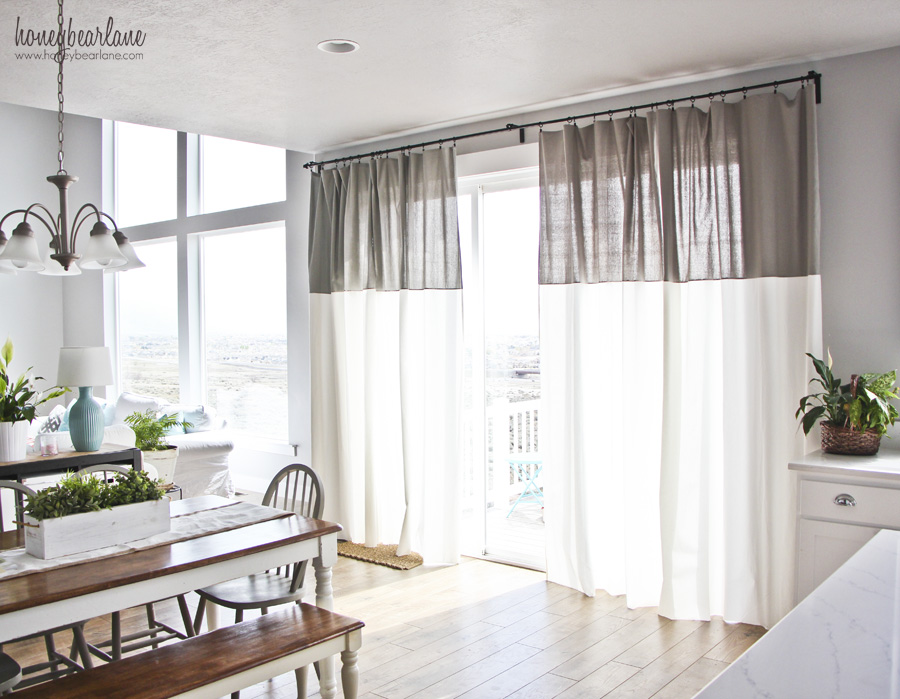 Heidi designed these curtains after the Ikea curtains she already had weren't long enough for the new space.
Instead of giving up and trying something else, she combined it with another curtain to achieve the two-toned look. It looks fantastic, and blocks just the right of amount of sun during the day!
Emma from A Beautiful Mess initially made this curtain to go in front of a closet, but I think it could be an interesting feature in front of a window as well! It won't do much for privacy, but in the right room, it could be a showstopper! Easy to make, and since there's no fabric, no sewing required!
What makes this tutorial stand out isn't necessarily the idea- you can find grommet curtains in the aisles of any big home store. But what if you want to make your own custom grommet curtains?
That's where Alison's tutorial comes in. It's incredibly detailed, and will walk you through the entire process of making your own DIY curtains.
There is sewing involved, but Alison states at the beginning that she's a novice sewer, and the instructions are written for the beginner. If there's a fabric you've been dying to turn into curtains, this tutorial is a great place to start!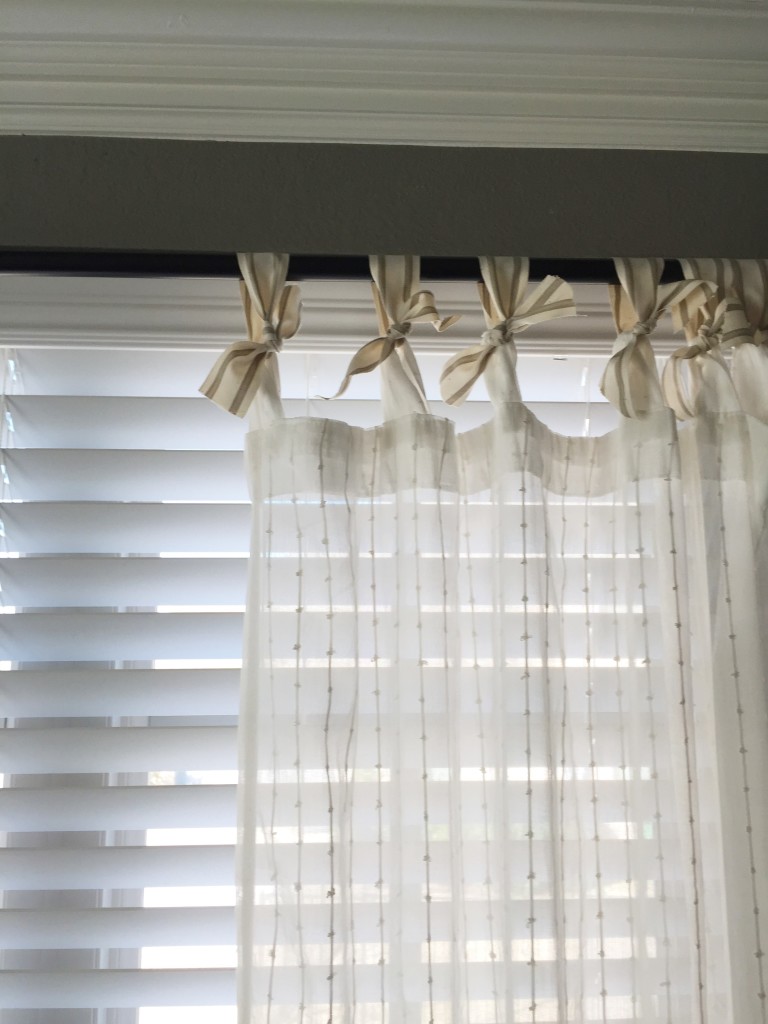 I absolutely love the little knots at the top of the curtain; I think they add so much character, plus some extra length to notoriously short store-bought curtains! The best part? They're super easy to make! Elaine simply tied some ribbon to the top of budget Ikea curtains. No sewing required, and the technique is transferable to almost any curtain.
These budget-friendly curtains come it at less than $20 a panel, and contain a drop-cloth liner for extra privacy. They can be made in under 10 minutes, and don't require any sewing. If you've been dreaming of billowing white curtains, this is the easy budget way to go!
You might be thinking "aren't these just normal DIY curtains with horizontal striped fabric?" No, because wide horizontal striped is difficult to find. Gina instead took vertical striped fabric and turned it into horizontal stripes in this genius tutorial! While there is a bit of extra sewing involved, it's totally worth it to get that classy striped look!
I'm a big fan of creative touches on curtains, and this smocked look definitely qualifies! In most cases, I'm not a fan of drop cloth curtains, but these are so gorgeous (and don't require bleaching or washing) that they just might change my mind!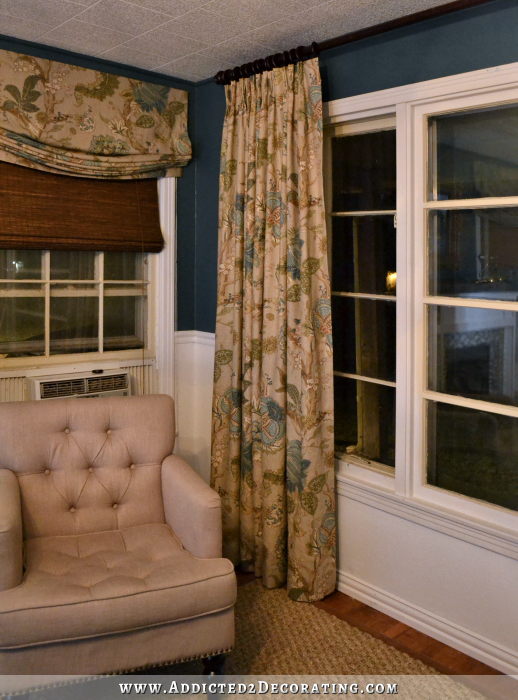 If you are looking for the ultimate formal curtain tutorial, this is the post for you. Kristi is a former interior decorator who actually knows how professional workrooms make their curtains… so that's what she does. T
he tutorial is so in-depth she breaks it into two parts (Part 1, Part 2), and the end results are gorgeous professional-style pinch pleated drapes! Definitely worth a read, even if just to admire her work! Sewing required.
A tension rod and some clothesline are all Tania needed to add a bit of boho to her kitchen. An easy curtain to make and hang, this was a simple way to add some style to the window. Budget-friendly to boot, this curtain is a definite win!
Still considering store bought curtains, but want them to be lined? This method is by far the easiest way to line store bought curtains- minimal sewing skills required. Done in 10 minutes, it's an easy way to upgrade store bought curtains to lined or blackout versions without the extra cost!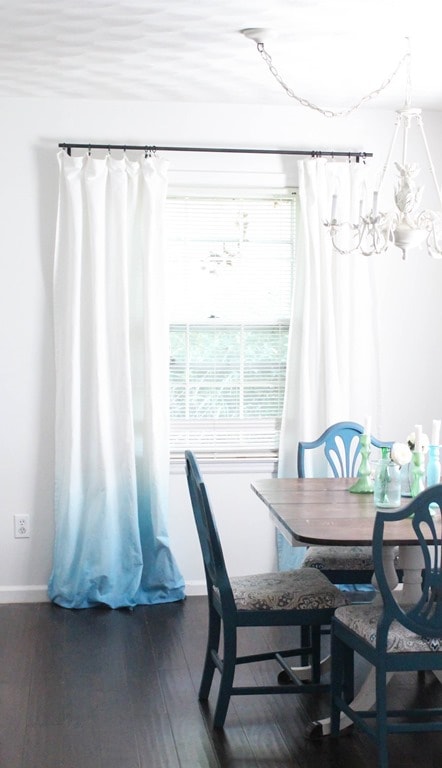 Carrie made these curtains in slightly nontraditional way; instead of slowly pulling the curtains out of a bucket of dye, she chose to paint the curtains with the dye instead. Her results are beautiful, and if you're considering ombre curtains, her method is worth checking out!
This has to be the easiest DIY Curtains on this list. Courtney simply took an 84″ long tablecloth straight out of the package, clipped it on the curtain rings, and called it a day. It was a simple and cheap way to add quick window treatments to a room. The result is super pretty, and fits right in with her Christmas decor. Go check it out!
Do those curtains look like drop cloths to you? No, me either! A simple stencil, paint, and fabric medium turned them from utility fabric into high-end custom curtains. Sondra has some excellent tips for prepping your dropcloth and ensuring a quality paint job, so do click over and take a look!
See those bowties? They were made with a potato. Yes, an actual potato. This is crazy to me, but it clearly resulted in a clean and pretty paint job. The bowties add the perfect amount of whimsy to the room, and help spice up an otherwise boring curtain! It's a simple process worth checking out – especially if you have an extra potato sitting around!
This is such a cute and creative little idea that brings a some vintage charm to a small window! If you have basic sewing skills, turning a pillowcase into a small curtain is a quick and easy afternoon project. Anita gives all the details over on the original post; go take a look!
I hope this gave you some ideas for your next curtain project! If you're still looking for more info, go ahead and check out my DIY Curtain Cost Analysis for different DIY curtain methods. But before you do, make sure you save this post to Pinterest so you can find it again later!