Warning
: exif_imagetype(//abutterflyhouse.com/wp-content/uploads/2018/05/FInal-2.jpg): failed to open stream: No such file or directory in
/home/customer/www/abutterflyhouse.com/public_html/wp-includes/functions.php
on line
3286
Warning
: file_get_contents(//abutterflyhouse.com/wp-content/uploads/2018/05/FInal-2.jpg): failed to open stream: No such file or directory in
/home/customer/www/abutterflyhouse.com/public_html/wp-includes/functions.php
on line
3309
Warning
: exif_imagetype(//abutterflyhouse.com/wp-content/uploads/2018/05/Trellis-on-Wall.jpg): failed to open stream: No such file or directory in
/home/customer/www/abutterflyhouse.com/public_html/wp-includes/functions.php
on line
3286
Warning
: file_get_contents(//abutterflyhouse.com/wp-content/uploads/2018/05/Trellis-on-Wall.jpg): failed to open stream: No such file or directory in
/home/customer/www/abutterflyhouse.com/public_html/wp-includes/functions.php
on line
3309
Warning
: exif_imagetype(//abutterflyhouse.com/wp-content/uploads/2018/05/Screw-in-Trellis.jpg): failed to open stream: No such file or directory in
/home/customer/www/abutterflyhouse.com/public_html/wp-includes/functions.php
on line
3286
Warning
: file_get_contents(//abutterflyhouse.com/wp-content/uploads/2018/05/Screw-in-Trellis.jpg): failed to open stream: No such file or directory in
/home/customer/www/abutterflyhouse.com/public_html/wp-includes/functions.php
on line
3309
Warning
: exif_imagetype(//abutterflyhouse.com/wp-content/uploads/2018/05/Nail-Polish-Painted-Screw.jpg): failed to open stream: No such file or directory in
/home/customer/www/abutterflyhouse.com/public_html/wp-includes/functions.php
on line
3286
Warning
: file_get_contents(//abutterflyhouse.com/wp-content/uploads/2018/05/Nail-Polish-Painted-Screw.jpg): failed to open stream: No such file or directory in
/home/customer/www/abutterflyhouse.com/public_html/wp-includes/functions.php
on line
3309
Warning
: exif_imagetype(//abutterflyhouse.com/wp-content/uploads/2018/05/Painted-Pots.jpg): failed to open stream: No such file or directory in
/home/customer/www/abutterflyhouse.com/public_html/wp-includes/functions.php
on line
3286
Warning
: file_get_contents(//abutterflyhouse.com/wp-content/uploads/2018/05/Painted-Pots.jpg): failed to open stream: No such file or directory in
/home/customer/www/abutterflyhouse.com/public_html/wp-includes/functions.php
on line
3309
Warning
: exif_imagetype(//abutterflyhouse.com/wp-content/uploads/2018/05/Length-of-Thread.jpg): failed to open stream: No such file or directory in
/home/customer/www/abutterflyhouse.com/public_html/wp-includes/functions.php
on line
3286
Warning
: file_get_contents(//abutterflyhouse.com/wp-content/uploads/2018/05/Length-of-Thread.jpg): failed to open stream: No such file or directory in
/home/customer/www/abutterflyhouse.com/public_html/wp-includes/functions.php
on line
3309
Warning
: exif_imagetype(//abutterflyhouse.com/wp-content/uploads/2018/05/First-Knot-In-Thread.jpg): failed to open stream: No such file or directory in
/home/customer/www/abutterflyhouse.com/public_html/wp-includes/functions.php
on line
3286
Warning
: file_get_contents(//abutterflyhouse.com/wp-content/uploads/2018/05/First-Knot-In-Thread.jpg): failed to open stream: No such file or directory in
/home/customer/www/abutterflyhouse.com/public_html/wp-includes/functions.php
on line
3309
Warning
: exif_imagetype(//abutterflyhouse.com/wp-content/uploads/2018/05/Sorted-String.jpg): failed to open stream: No such file or directory in
/home/customer/www/abutterflyhouse.com/public_html/wp-includes/functions.php
on line
3286
Warning
: file_get_contents(//abutterflyhouse.com/wp-content/uploads/2018/05/Sorted-String.jpg): failed to open stream: No such file or directory in
/home/customer/www/abutterflyhouse.com/public_html/wp-includes/functions.php
on line
3309
Warning
: exif_imagetype(//abutterflyhouse.com/wp-content/uploads/2018/05/4-Knots-in-Thread.jpg): failed to open stream: No such file or directory in
/home/customer/www/abutterflyhouse.com/public_html/wp-includes/functions.php
on line
3286
Warning
: file_get_contents(//abutterflyhouse.com/wp-content/uploads/2018/05/4-Knots-in-Thread.jpg): failed to open stream: No such file or directory in
/home/customer/www/abutterflyhouse.com/public_html/wp-includes/functions.php
on line
3309
Warning
: exif_imagetype(//abutterflyhouse.com/wp-content/uploads/2018/05/Resorted-after-4-Knots.jpg): failed to open stream: No such file or directory in
/home/customer/www/abutterflyhouse.com/public_html/wp-includes/functions.php
on line
3286
Warning
: file_get_contents(//abutterflyhouse.com/wp-content/uploads/2018/05/Resorted-after-4-Knots.jpg): failed to open stream: No such file or directory in
/home/customer/www/abutterflyhouse.com/public_html/wp-includes/functions.php
on line
3309
Warning
: exif_imagetype(//abutterflyhouse.com/wp-content/uploads/2018/05/Resorted-2-Knots.jpg): failed to open stream: No such file or directory in
/home/customer/www/abutterflyhouse.com/public_html/wp-includes/functions.php
on line
3286
Warning
: file_get_contents(//abutterflyhouse.com/wp-content/uploads/2018/05/Resorted-2-Knots.jpg): failed to open stream: No such file or directory in
/home/customer/www/abutterflyhouse.com/public_html/wp-includes/functions.php
on line
3309
Warning
: exif_imagetype(//abutterflyhouse.com/wp-content/uploads/2018/05/2nd-Level-Done.jpg): failed to open stream: No such file or directory in
/home/customer/www/abutterflyhouse.com/public_html/wp-includes/functions.php
on line
3286
Warning
: file_get_contents(//abutterflyhouse.com/wp-content/uploads/2018/05/2nd-Level-Done.jpg): failed to open stream: No such file or directory in
/home/customer/www/abutterflyhouse.com/public_html/wp-includes/functions.php
on line
3309
Warning
: exif_imagetype(//abutterflyhouse.com/wp-content/uploads/2018/05/Knot-on-End.jpg): failed to open stream: No such file or directory in
/home/customer/www/abutterflyhouse.com/public_html/wp-includes/functions.php
on line
3286
Warning
: file_get_contents(//abutterflyhouse.com/wp-content/uploads/2018/05/Knot-on-End.jpg): failed to open stream: No such file or directory in
/home/customer/www/abutterflyhouse.com/public_html/wp-includes/functions.php
on line
3309
Warning
: exif_imagetype(//abutterflyhouse.com/wp-content/uploads/2018/05/Cup-Hook-In-Trellis.jpg): failed to open stream: No such file or directory in
/home/customer/www/abutterflyhouse.com/public_html/wp-includes/functions.php
on line
3286
Warning
: file_get_contents(//abutterflyhouse.com/wp-content/uploads/2018/05/Cup-Hook-In-Trellis.jpg): failed to open stream: No such file or directory in
/home/customer/www/abutterflyhouse.com/public_html/wp-includes/functions.php
on line
3309
Warning
: exif_imagetype(//abutterflyhouse.com/wp-content/uploads/2018/05/FInal-1.jpg): failed to open stream: No such file or directory in
/home/customer/www/abutterflyhouse.com/public_html/wp-includes/functions.php
on line
3286
Warning
: file_get_contents(//abutterflyhouse.com/wp-content/uploads/2018/05/FInal-1.jpg): failed to open stream: No such file or directory in
/home/customer/www/abutterflyhouse.com/public_html/wp-includes/functions.php
on line
3309
Warning
: exif_imagetype(//abutterflyhouse.com/wp-content/uploads/2018/05/Full-View-Final-1.jpg): failed to open stream: No such file or directory in
/home/customer/www/abutterflyhouse.com/public_html/wp-includes/functions.php
on line
3286
Warning
: file_get_contents(//abutterflyhouse.com/wp-content/uploads/2018/05/Full-View-Final-1.jpg): failed to open stream: No such file or directory in
/home/customer/www/abutterflyhouse.com/public_html/wp-includes/functions.php
on line
3309
So, you know my entryway redesign project? After finishing the board and batten, I spent some amount of time wondering what I was going to do with all the space above it. The space needed something.
Art sounded like a good idea, but art is expensive, especially when I was imagining some sort of three piece set. I could make something, which is an ideal, less costly solution, but what should I make??
That was when I came across this beautiful Wood and Leather Trellis Plant Wall at Vintage Revivals.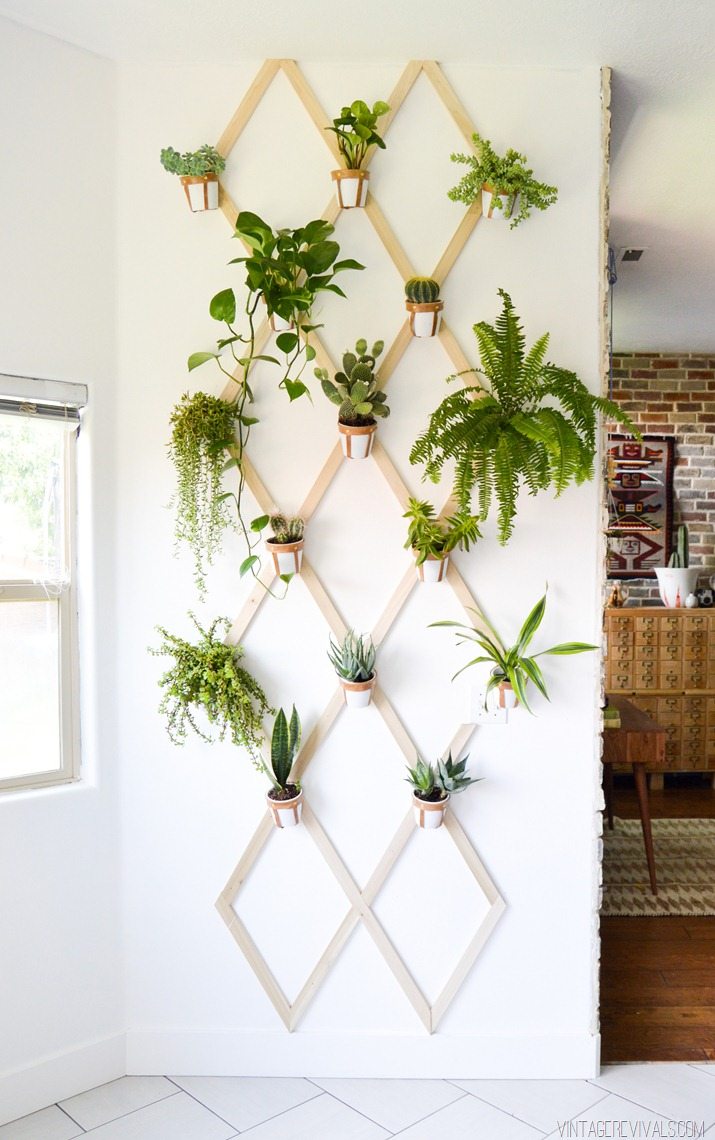 Isn't it gorgeous? Unfortunately, it also looks like a lot of work. And requires a miter saw, something that I really do not have room for in my little one-bedroom condo.
So I set out to create a simpler version for those of us lacking power tools.
Note: This blog contains affiliate links. If you click and make a purchase, I may receive compensation (at no additional cost to you.)
Ultra-Easy DIY Indoor Trellis Garden
Materials
Trellis; I purchased this from Lowes, and while I don't consider it the best quality (just a bunch of boards nailed together,) it was also the least expensive trellis out there, and still served my purpose.
Stain; I used this, which I already had. I was aiming for something dark, and it did the trick.
Twine– Gold Spray Paint; I had some typical Rustoleum Gold spray paint still sitting around, and used it to paint the pots.

I don't recommend it at all for this project, as it is not a paint intended for masonry. While the paint didn't peel off after it was dry, it did leave gold residue on my fingers whenever I touched the pots. Therefore, I had to try not to touch the pots after they were painted, or risk removing the paint.

If I were to do this again, I'd probably use Rust-oleum's Universal Spray Paint, since it claims to stick to more things.
8 Cup Hooks; I used these National Hardware ones that I bought at my local hardware store. They came in a pack of 4, and worked great, however, Amazon has this 50 pack which is a much better value.

I would love to know if they work just as well, so if you try them, let me know in the comments!
Plants!! I was determined to have an herb garden, and while I wasn't able to find thyme or cilantro at this time of year, I did manage to find parsley and chives, which was better than nothing.
(2) 2" screws
Brad Nails
Step 1: Stain the Trellis
​The trellis I purchased was already stained a reddish/orange color, which was not what I was going for. I wanted something dark, so I stained with Varathane's Kona color. I was thrilled with how it turned out!
Step 2: Mount the Trellis
​I started by finding and marking the studs in my wall with my handy dandy stud finder (have I told you how much I love my stud finder? It's the best, aka, cheap and effective. Even my dad was impressed when I showed him at Christmas, and he swears stud finders don't work.)
I then had a friend center the trellis on the wall, and I put in a few brad nails to hold up the trellis temporarily.
While I did use a nail gun, it wasn't necessary, and you totally could have done that by hand (or have your friend keep holding the trellis up until you get your screws in.)
Then, in two of the places the top row of my trellis crossed the studs, I drilled small pilot holes for my screws. The goal here is to avoid splitting the wood when you insert the screws.
I then drove the screws in, making sure that they hit the studs I was aiming for. These two screws are really what hold the trellis up, so it's important that the two screws both hit studs.
The screw was super shiny once I put it in.. killed the asthetic a bit.
So I painted the screw with some brown nail polish. It's barely noticeable now!
Step 3: Spray Paint the Pots
There's not really a trick to this, other than to make sure you use paint that is intended for masonry. Don't make my mistake!
Step 4: Transfer Your Plants to the Pots
I purchased all of my plants as 4″ actual plants (and not seeds.) I know nothing about plants, or proper plotting techniques or anything, so I just kind of pulled the plant (by the green bits…) out of the plastic holder and plopped it into my pot. No plants died or seemed injured, so it seemed to work?
Update: All the plants died. Probably not because of my poor planting technique, but because this space doesn't get as much light as I thought, plus I'm not very good at watering plants. So I replaced all the plants with fake plants, and all is well (except the dead plants. They're not so well…)
Step 5: Make the Plant Hangers
​This is apparently called macrame, and seems to be a thing on Pinterest right now, which I never would have known had I not gone searching for "attractive ways to hang plants." (Have you used/heard of it? My mom insists it's been around forever, and I would love some proof of that!)
Macrame looks and sounds intimidating (to me, at least,) but I swear this is super easy, as evidenced by the fact I made eight of these plant hanger things, and I had never heard of macrame before.
1. Cut 8 pieces of string to be about 2 feet long. You don't have to be super picky about making sure each string is identical in length- I certainly wasn't.
2. Tie a knot a couple inches above the bottom of string. This knot should encompass all eight strings (as if your bunch of strings was one single string. See picture below.)
3. Above your knot, separate the strings into four sets of two. In each set, tie a knot about 1 1/2″ above the big knot. These don't have to be perfect- when I was tying mine, I never even measured. When you're done, you should have four new small knots, one in each set of strings.
String is sorted into four sets of two.
Sorted pieces each have one knot in them.
4. Resort the strings into four new sets of two. Each new set should have one string from each of the old adjacent sets. (see picture below.)
The two unpaired strings will pair with each other when you go to tie the knots!
5. Tie a knot in each of the sets roughly 1 1/2″ above the previous knot, just like you did in Step 3.
Knots have been tied in two of the four sets.
Four knots tied in 2nd level!
6. Repeat steps 4 and 5 to make your third row of knots.
7. At this point, I put one of the pots into the hanger to check for sizing. Occasionally I would tighten a knot here or there to make everything a bit more even.
8. Finally, using all eight strings, tie one big knot about an inch below the top of the strings. Put your planter in the hanger, and you're all set!
Step 6: Mount the Planters
Once again, to avoid splitting the wood (and to make my life easier), I drilled pilot holes in all the places I wanted to put a hanger. Then, I screwed in each of the cup hooks where I had drilled the pilot holes.
My hands are sad and weak, so toward the end I used pliers to make sure the cup hooks were all the way in the board. I was careful to make sure all my cup hooks faced up, because that seemed like an annoying mistake to make.
Then I put my plants in the hangers and hung them on the hooks. Success!
Like this post?? Save it to Pinterest!